Home
> Gravimetric > Units > Extruder > Gravimetric throughput control
weigh hopper with GM2408ex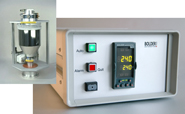 Features
The standard equipment to control the throughput of an extrusion consists of a weigh hopper in combination to a gravimetric controller like GraviMaster 2408ex.
The controller is designed to be built into the front panel of a cabinet or a separate enclosure near to the extruder.
The advantages of a separate box are:
simple retrofit
direct control of the extruder drive
Optional: status and alarm indication
All cables with connectors on the rear side of the box
weigh hopper with local controller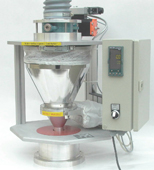 Features
On co-extrusion lines which are typically controlled by a PLC the gravimetric controllers are distributed. Each hopper has its own box containing the gravimetric controller GraviProfi 2408f and as an option digital I/Os for other functions i.e. proximity switches.
All units are supplied with 24VDC and linked to a communication network. GraviProfi 2408 offers the following function:
Direct connection to load cell and refilling valve
Communication port: Profibus DP or Modbus via RS485/422
Local indication of measured value and set-point
Convenient calibration near the load cell